Tokyo Tower
This is a paragraph! Here's how you make a link: Neocities.
Here's how you can make bold and italic text.
Here's how you can add an image: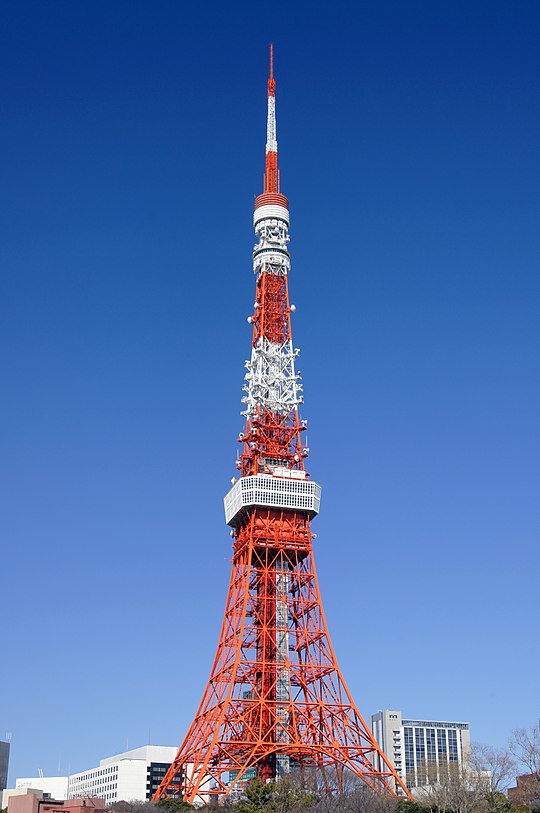 Here's how to make a list:
Tower

The Tokyo Tower is a communications and observation tower in the Shiba-koen district of Minato, Tokyo, Japan. At 332.9 meters, it is the second-tallest structure in Japan.

The structure is an Eiffel Tower-inspired lattice tower that is painted white and international orange to comply with air safety regulations.

Built in 1958, the tower's main sources of income are tourism and antenna leasing. Over 150 million people have visited the tower. Footstone, a four-story building directly under the tower, houses museums, restaurants, and shops. Departing from there, guests can visit two observation decks. The two-story Main Deck (formerly known as the Main Observatory) is at 150 meters (490 ft), while the smaller Top Deck (formerly known as the "Special Observatory") reaches a height of 249.6 meters (819 ft). The names were changed following renovation of the top deck in 2018.[4] The tower is repainted every five years, taking a year to complete the process.

Functions

Tokyo Tower's two main revenue sources are antenna leasing and tourism. It functions as a radio and television broadcasting antenna support structure and is a tourist destination that houses several different attractions. Over 150 million people have visited the tower in total since its opening in late 1958.Tower attendance had been steadily declining until it bottomed out at 2.3 million in 2000. Since then, attendance has been rising, and it has recently been attracting approximately three million visitors per year.

I added this inside class ani!!
inside wovn ignore content, content should be ignored here
inside ignore attributes, Adeed some content for wovn attributes
To learn more HTML/CSS, check out these tutorials!